A Doggie and a Pussycat: How the doggie tore his pants / About a doll that cried faintly
Základní informace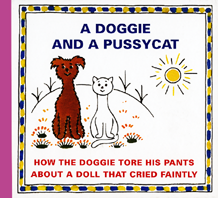 Autor:

Redaktor:

Ilustrace:

Překlad:

Edice:

Kategorie:

Jazyk:

angličtina

Vydání:

první

Rok vydání:

2004

Originál:

ISBN:

80-7340-040-5

EAN:

9788073400408

Nakladatel:

Baset

Počet stran:

48

Formát:

215 × 185 mm

Hmotnost:

300 g

Papír:

150 g, křída mat

Vazba:

pevná, V8

Stav:

v prodeji
---
Blíže o knize
Dear children,
imagine if you can – how could such a thing happen to pussycats and doggies!? Well, it does happen. Sometimes. When there is the right time and if you can imagine that pussycats and doggies are dressed in their skins just like people are in clothes. A hole in the pants like that is disgraceful for everybody, who wears pants. Th at means doggies as well. People or even animals have to be very careful with their things, because the careless ones could have other things happen to them as well.
They could perhaps break some beautiful toy, or even worse, they could loose it. Now you can't pretend to race with a broken toy car, and you can't pretend to cook with a lost bucket; and we haven't even talked about toys that have not been put away. Th ey are the saddest of all toys in the world ever, when their mummies and daddies, those girls and boys, don't put them away properly. You can perhaps loose a toy or some money by accident, but leaving a toy or even a doll lying somewhere, that is not a done thing among well-behaved children. Not that.
Now, since we all know that sometimes some child, a girl or a boy does that, that is why we want to tell you about one small, lost and poor doll, so that you realize that such things must never be done.
So bye-bye and regards
Yours PUSSYCAT and DOGGIE
---
Cena
Doporučená cena:

189 Kč

Naše cena:

135 Kč

Doprava:

od 0 Kč (dle podmínek)

Balné:

0 Kč

---
---
Další knihy z edice O pejskovi a kočičce